Latest Zero Friction Cycling News – Golden Age of Lubricants – Next Level
Golden Age of Lubricants – Next Level!!
Where to begin. So much has been happening in the fun world of low friction goodness, its all getting a bit much – so much so in fact one of the most common enquiries im getting now is customers stuck as cant decide what top lubricant choice they should go with!!
And that's a pretty valid pondering – so much so I really need to get some kind of lubricant choice matrix drawn up, so that's in the wings when I can get a chance. Whilst I will try to sort of concisely sum up the latest releases and data to help you decide, the main take away at the moment is that really you just can't lose (unless you follow the advice of GMBN lube video's).
Lets dive into it.
Ceramic Speed have release UFO drip v2 as frankly whilst version 1 met its design brief of being the fastest drip lubricant on the market – it had some quirks that made it a bit tricksy – price, short treatment lifespan, hard to apply and even moderately cool (basically not warm) ambient temperatures, and dangerous goods for air travel.
UFO Drip v2 addresses the above – its faster, its longer lasting, its cheaper, its environmentally friendly, it can be easily applied in a very wide range of ambient temperatures. Yeehaa.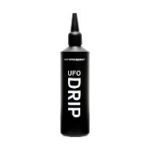 With this release we also had some great outright efficiency data re some of the other top lubricant choices it is competing with in this space, so we get to see from the worlds most accurate test lab some numbers we can put a lot of stock into. Yes many of you may take with a grain of salt as its not independent, but – if it helps – I have been dealing with this testing protocol and lab since the days of friction facts, and it's the same test they use to provide efficiency data for chains (they don't make chains so don't have a stake in the game). And honestly, there is no other reliable independent data. We have seen efficiency data from a particular independent lab for other lubricant releases, and from those graphs if that data is credible to you, then ok, its your drivetrain not mine.
From ZFC perspective and believe me I place an incredible weight on data and information I can trust (which is why invest huge resources into obtaining my own) as this underpins what products I stock and recommend, I have zero concerns with the accuracy of the CS test data. Yes of course they are going to win, they are not going to go to market launching showing another product is better than theirs, but they have a 25k usd test machine to play with to keep working on their formula until they do win, if you ask, and I have – that is basically the way it goes, they just keep going until they win, and then in this case also ensuring previous issues were addressed at the same time – and then they go to market. Over the years I have pummelled them 6 ways from Sunday re testing process, and also you may not from friction facts days not a single engineer anywhere voiced concern with test machine and process that jason smith pioneered – so again from zfc perspective, the data is solid, if I had concerns, I would state the concerns, and I would state what questions I asked that had insufficient answers (like I have done with muc-off testing and wend etc). But we are solid.
ZFC has also tested UFO Drip v2 and it was quite frankly exceptional, setting yet again new benchmarks, I wont blather on here as already getting too long, but data is up on ZFC website in lubricant test section.
So its battle on between UFO D v2, Silca SS drip, Silca Hot melt, and Msw with price vs performance – again – I need to get a matrix drawn up.
We can now see that Hot melt has indeed tested faster than the age old king Mspeedwax, however – Mspeedwax is half the price, literally, and I have also recently completed (data to be up very soon) test where one re-waxes frequently with Msw. Frequent re-waxing vs pushing treatment lifespans delivers frankly astounding benefits to your drive train lifespan – quite simply there is a period post each re-wax where there is effectively zero wear, all parts are sliding on a solid super slippery wax surface. Then from about 100 to 200km a very very small amount of wear starts to commence, this increase more rapidly from 200 to 300km, and then much more rapidly again past that point.
This is something I have been tracking a lot with local customer & racer / race team base. Customers who frequently push wax treatments to 400km+ mark experience around half the chain lifespan to 0.5% vs those rewaxing by 250 to 300km mark. However those who run say two chains on rotation and keep re-wax intervals to circa 200km, chain lifespans become practically untrackably long, with no one keeping a bike long enough to wear chains to 0.5% before buying new bike and starting over. So even avid riders / racers doing 450 to 500km a week simply running one chain from mon to fri, one for weekend, re-wax both at once on rest day – its been 20,000km+ per chain territory, some have even gone past 25,000km – which is pretty astounding stuff.
So the test where re-wax intervals were doubled showed incredibly low wear and cost to run results, so a) if you are too perturbed by which wax is a watt faster then Mspeedwax is still obviously and incredible choice re day in day out low friction and wear, and is still topping the charts in overall cost to run drivetrain – doubly so if one is on a frequent re-wax regime / chains on rotation etc.
I will also be very (VERY) surprised if Msw have been sitting on their haunches during this time. Their product has more or less ruled the roost for day in day low friction and running costs for the last decade, challengers have come out swinging – have they been idle or seen this day coming and prepared for it – we shall see.
The CS data also validated Ab claims re graphene lube, and I can attest from testing that I cant really talk about, that ab graphene does have by far the longest single application treatment lifespan, so that suits some who have either a) a very long event coming up or b) like to go months between re-lubes (depending on ride volume). In short, its incredibly long lasting per treatment, and as we can see, its fast. I do need to re do the test I have already done so I have my own data not locked up in NDA, but that will be a bit of a wait as ZFC testing is booked solid for approx. next 8 months. But will get there, in the interim just use the CS data and my assurance re treatment longevity, I shouldn't get sued for saying that. I think.
Annnnnddddd……… just to help push things into super lube release overload, Silca have release yet another new lube – the Silca Synergetic Wet lube!!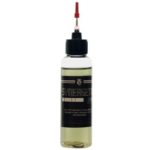 A wet lube?
Yes a wet lube. Why?!
In short – there is simply a decent chunk of the cycling demographic who just aren't on board with the whole wax thing, being immersive wax or drip on wax. There are a surprising (LIKE REALLY SURPRISING) number of ex / current world level and national level team mechanics who will just outright say the whole wax caper is crap, despite the mountain of frankly indisputable data. It is in fact still disputed, in the same manner as we believe it or not there are genuine, bona-fide flat earthers. That's right folks, the fact that the earth is round is even in dispute. So is immersive waxing and lubes like Silca SS / UFO drip etc, and mechanics will refer back to what they know to be the top way to clean and lube a chain that they learnt from X famous cyclists personal mechanic back in 1992, and a line in the sand under that knowledge was henceforth drawn and shall not be re-drawn.
Aside from flat earther comparisons, there are in fact valid reasons why a decent chunk of the cycling demographic doesn't want a wax drip lube and just wants an traditional oil type lube. Wax drip lubes still tend to have a more involved application process, set time and relatively short lifespan (ab graphene excepted here re lifespan, but not ease of application). A lot of cyclists just want something they can easily drip on and go ride, and this type of lube hasn't really had a lot of genuine love since Nix Frix Shun was released.
So Silca have brought out a new super wet lube to take the next step from NFS, and cover the demographic that wants to avoid the wax lube caper.
Clever.
It makes a stack of bold claims (link below to a release article), I will of course need to test – I cant say pre testing that I would recommend for those riding trail over a top proven was lube as stuff simply sticks to wet lubes vs solid chain coatings, but again due to high degree of trust and data sharing from Josh Poertner and silca I will be stocking when avail in aus, testing as soon as I can, and reviewing decision re stocking should any nasty surprises arise, and I will be field testing in the interim as well as will be a bit before I can get to control test. However – I will be shocked if its not all that and a bag of chips for a wet lube.
That will do! I have a mountain of work to get through re updating graphs, a new single application longevity test (the previous one was not sufficient so those tests are being re-done), a lubricant choice matrix, expanded cost to run modelling across higher level groupsets and ride type, a big list of lubricant tests to plough through – all whilst still struggling to get new house and custom workshop built (note the sa lockdown REALLY hasn't helped that).
So pls be patient re new data and tests updated – will get there, and faster when I have new workshop and more test machines online – but for the mo….. its been one heck of year re lubes in 2020, ZFC needs 30 hour days!
Oh – and there will be more exciting lube news soon believe it or not! So stay tuned, next update should be super exciting.
Hope this update helps in the interim, time for me to plough on!
Ufo Drip V2 release;
https://cyclingtips.com/2020/11/ceramicspeeds-new-ufo-drip-lube-is-slicker-longer-lasting-and-far-cheaper/
Silca Synergetic Wet lube release;
https://bikerumor.com/2020/11/17/silca-synergetic-wet-lube-promises-to-redefine-how-fast-chain-oil-can-be/
A reminder of the absolute worst lubricant advice possible to make sure your cycling buddies are disabused of doing such things and being very wasteful re drivetrain wear rates (and their wallet) – again feel free to RESPECTFULLY correct in comments;
And check here for ZFC data on UFO Drip v2 (I have some small graph axis / data point colour corrections to do when I get a spot…. Apologies)
https://zerofrictioncycling.com.au/lubetesting/
Stay safe out there, and stay low friction.