Latest Zero Friction Cycling News – You tube vids are go – Latest podcast – Testing updates – Beware fake chains in these days of stock shortages!!
Latest News 26 – You tube vids are go / Latest podcast /  Testing updates / Beware fake chains in these days of stock shortages!! /
Good morning dear all low friction peeps!
Ok a tad behind, like everything!
Righto firstly finally have gone live with first you tube videos, if you search on you tube for Zero Friction Cycling, you should be able to find episode 1, and episode 2 & hopefully 3 or click on the link below!
(I will also look to embed in new Media Room section on ZFC webpage and cross link from Facebook page).
Number 1 – Bear with me, I will get better lol! Im not a spotlight person, had not planned when started zfc to go you tube path, but as mention before there is just so much really poor / incorrect info that come comes up when people search for chain lube / chain maintenance, waxing etc – and my too long to read for many docs just will not get the message across, so stepping into that space has become rather necessary to help try to save drivetrains from early death – I just get too many emails every day from all around the world of sad stories from following certain video's advice, and needing help to correct. Im losing too many hours a week to such emails where a poor cyclist is in a right pickle re drivetrain mess & wear and how to reset and do properly – i need to see if I can get the correct info messaged better vs just website docs.
Number 2 – I have started right at the beginning and the basics, so for those of you that have been following ZFC for awhile now it will be all news that you are pretty familiar with, but if you can still watch, share, like, subscribe, comment on etc – this will all help drive traffic and move the vids up the list when people search for related topics.
Number 3 – In upcoming rounds of videos I will be moving into deeper and deeper topics and really start tackling a lot of the terrible information and testing stuff.
Number 4 – truly ruly help save drivetrains around the world and solvent use by liking, sharing, subscribing and putting nice comments on 😊.  Also any questions please post there i will do my best to either a) answer and b) compile questions that need answering more broadly in periodic video's dedicated just to viewer questions.
LATEST PODCAST
I had the honour recently of being invited onto the Leadville 100 podcast. The Leadville 100 is an epic and iconic event in USA, one I would absolutely love to do one day, and so it was great to be invited on to talk about how to get to the finish line with the best chance to make it still with a very low friction chain and the main options one should consider.
It is quite pertinent in again one of the most common enquiries I receive is I have X event what lube choice should I run with? So this podcast helps cover this well, and it is a video and doc I need to get done as well to cover being such an FAQ these days.
But if you get a chance have a listen, the runners of the podcast have already let me know it has been tracking very positively and great feedback so woohoo – this helps me get invited onto more podcasts and I get to try to save more drivetrains! So if you listen and support, share etc – again this all really helps.
https://open.spotify.com/show/28zXYvhAuMUjBIOQoF8gCS
Testing updates
Holy batman testing – Two machines running flat strap for a couple of major manufacturers so im going hammer and tongs there, my third machine have just started testing GRAX on the basis of their rather large claims. Also their testing white paper raised a lot of concerns re the test process and results, discussions kicked off well enough, sent them a  bunch of questions for a call to discuss, call was scheduled, call got cancelled as need more time to properly answer questions, im awaiting reschedule of the call to then provide update re their rather interesting testing.
In the interim, ZFC testing of Grax has commenced so much will be revealed.
Post Grax test am now locked in to test Mspeedwax new formula, and following that it is likely to be wolf tooth wt-1 which also makes some interesting claims with detergent actively cleaning chain etc. Fun times.
In between I still need to complete detail review for Synergetic and Graphene wax and factory grease. I will get done as soon as I can.
Busy!
Fake Chains!
Sorry the below pics are in German from a German magazine but it was a good one sent to me from contact in Denmark, and overall it had been on my list to cover so just look at the pics.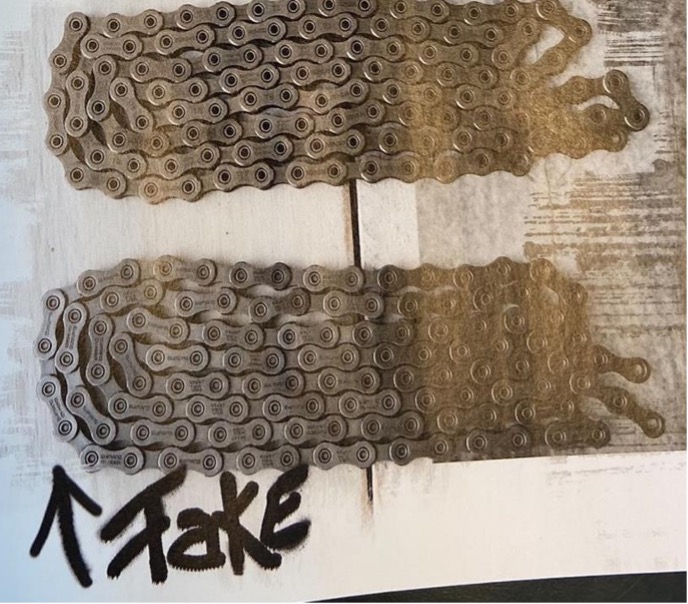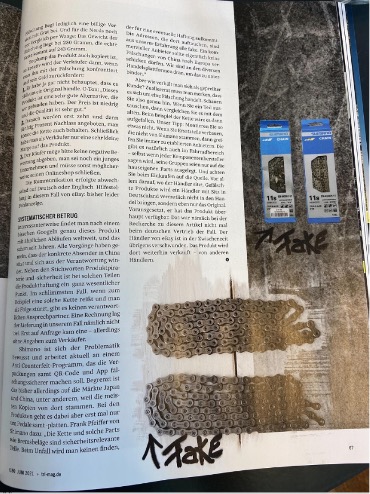 Note that fake chains are not just Shimano but also KMC and I believe YBN, About a year ago I purchased myself a gold YBN SLA at half the price than it should be from Alibaba and when I cleaned it went silver. Not a good sign. I didn't bother too much about it at time as YBN is still a fairly boutique specialist chain vs big 3, and really hopefully most people click that if it retails for circa 100 at places like ZFC and Pushys and $40 on dodgy sites, it would click its probably a fake.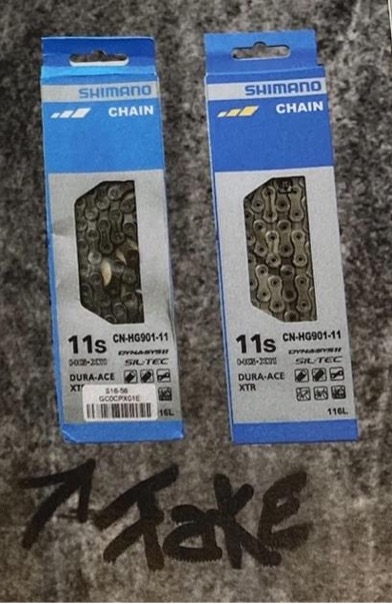 But with stock shortages for many chains now driving people to such sites who normally would not do so, it is worth a reminder now that you should only buy from reputable sites. If you buy from eBay, amazon, Alibaba sellers, goodness knows what you are getting.
Similarly there are so many sellers offering pre-prepped chains in msw or graphene wax – Anyone can buy a slow cooker and start selling prepped chains, are they prepping like ZFC, Mspeedwax / Silca / Ceramic speed…… Honestly, not even close. I don't want to humble brag, but very few people have the experience, expertise & equipment to prep chains to the level that myself, Silca & CS can prep to. Many of you at home can do a great prep following instructions in ZFC guide, but it wont be as good as what we can offer as we simply have better equipment, processes and experience. What someone is doing in their kitchen or garage to make money from you would be an absolute crap shoot. Either buy from a reputable seller, or do it yourself following proper instructions.
**Note these sellers do not have permission to sell chains pre prepped with those products**
A lot of trust is placed in me / ZFC by the likes of Mspeedwax, Silca, absoluteBlack to be able to offer pre prepped chains with their products officially. If I was to poorly prep, and customer therefore had a poor experience, that would reflect on their product and one would think huh that MSW / Silca / AB product is pretty rubbish etc. I have very strict guidelines signed off to follow, and they trust of course that every chain I prep will be prepped perfectly, and I take much pride in the  trust placed in me by these companies as the only other business in the world outside of themselves able to offer chains pre prepped with their products. When they can be bothered, they get around to trying to shut down some of the backyarders on ebay / amazon etc with cease & desist.
Again there is a reason I'm signed off to officially support supplying chains pre-prepped in those options. I have the equipment, experience and take much pride / integrity in every pre-prepped chain that leaves ZFC.
So two fold, beware fake chains, beware crap backyard preppers. Your chain & its lubricant is like SUPER IMPORTANT……. Don't let a fake chain / crap prep have a good shot at ruining your drivetrain.
SUBSCRIBE / LIKE / SHARE / Comment / whatever you tubey things you are supposed to do!! 😊