Latest Zero Friction Cycling News – So Much Low Friction!
Latest News 39 – So Much Low Friction!
Good morning all in the land of low friction, been awhile since last update, let's get cracking!
Latest video live – How to measure chainring and cassette wear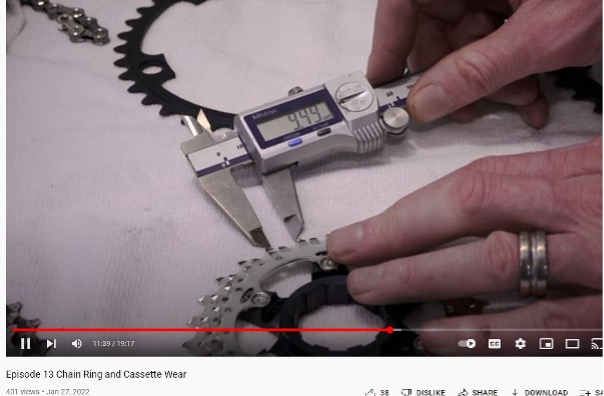 https://www.youtube.com/watch?v=t6W2fB0AZMg&t=902s
When you put a new chain on, do you know if you should replace your cassette as well? How do you check? What about your chain rings?
This video will take you through how to properly check for yourself, and avoid;
Not getting caught out with new chain running badly on worn parts
Not getting caught out with chain jumping off chain rings under power which can lead to a hot date with the oh so hard ground.
How to avoid wasting money buying a new cassette / rings when you didn't in fact need to.
There is no golden rule re "must replace cassette with new chain", or "you can get two chains to your cassette" etc.
There are too many variables – how abrasive or not does your lubricant become over time? How worn was your chain when you replaced it? Is your cassette made of hardened steel or is it a light alloy?
It is time to take the next step in your learning on this front and save both money by not replacing parts when you didn't need to, as well as safety by learning how to measure / learning how to safely test new chain on existing components.
And if you missed them, remember to grab a cuppa and watch episodes 11 & 12 where I cover in depth Lubricant efficiency testing woes around the world, and the main issues with cycling media lubricant reviews.
Latest ZFC Testing News
Righto it has been a MANIC period in the land of low friction, with the lead up to xmas very busy (thank you!), the catch up post xmas break flat out, and Mid January onward volumes have been mega (again thank you!!)
I have commenced testing both Silca Synerg-E and Wolf Tooth WT-1 on machines 1 & 3, and further testing for Rex is about to commence on machine 2.
Synerg-E is made to meet the demands of E-bike riding. Where Synergetic is made to be the lightest possible viscosity for outright efficiency, but still remain not flung off ones chain , Synerg-E can get heavier for greater film strength and treatment lifespan as losing a bit of energy to viscous friction is not a concern for e-bike riding.
Silca delivered a Trifecta of brilliant test results in 2021 with Hot melt, Synergetic, and Super secret drip. Will Synerg-E make it 4 from 4?
Place your bets. My bet?
I think it will have a great chance of being an outstanding choice for Road e-bike use, but I remain overall FIRMLY OPPOSED to wet lubricants for off-road use, and so I will be surprised if Synerg-E delivers in contamination blocks vs chain coating type lubricants.
I have said it before and I will be saying it much more often, wet lubricants and the world of dirt and dust are to all knowledge, logic and the laws of physics – a complete mismatch of product to use type. Every particle of dust WILL stick on contact to a wet lubricant and become part of the lubricant. There is no avoiding this. And NO FILM STRENGTH will be strong enough with the pressures involved inside a chain to prevent contamination from abrading against your chain metal under load.
I have been surprised before, but the average wear rate so far in block 2 – dry contamination – for wet lubricants vs top chain coating lubricants – the top 5 wet lubricants tested have near bang of 5x the average wear rate in this block vs the top 5 chain coating lubricants.
If you are an E-mtb rider – at this time I would recommend to go with a chain coating type lubricant even if it means very frequent application vs a very long lasting wet lubricant, because the world "lubricant" will become a loose definition as you clock up some trail time if your lubricant is wet.
Let us see if I will be wrong on this point, but in the interim if I was me, I know what I would do until the results are in.
Wolf tooth WT-1 – This test will have to be conducted in full, then the first couple of blocks re -test with the WT-1 applied directly onto a factory grease chain. As WT-1 claims much more strongly than others that it "cleans as it lubricates" and can even deal with being put straight over factory grease – I will need to get the first couple of blocks wear rate applied sanely (strip clean factory grease and apply), vs applied as per marketing pitch – directly over factory grease – and we shall see what difference in wear rate comes up.
The whole "clean as it lubricates" marketing angle is a very powerful one. It is like a fat pill. Take this pill and eat whatever and all that you want and you will be ripped in no time. That appeals to a certain demographic. Just apply this lubricant and it will clean your chain as it lubricates – that also appeals to a very large cycling demographic.
It is a pretty tall order, especially considering that the target market is very much mtb / trail riders, and that being a wet lubricant, it is actively attracting a lot of contamination that it the supposedly with effectively deal with.
It is a bit like apparently wanting to be happily married and your approach to achieving this is to jump onto every known dating platform and having a never ending flood of suitors rock up to your house, where upon you apparently effectively deal with them, and things remain low friction with your bride.
This would not be my personal approach to achieving a happy outcome, similarly WT-1's approach is also not the approach I would take with regards to retaining a clean & low friction running lubricant out on the trails.
But again, we shall see. The laws of physics and basic logic are nothing if not to be frequently challenged by marketing!!   Nothing against marketing per se' it is necessary for companies to try to distinguish themselves in the crowd, but it often very difficult for consumers to try to work out if claims are sound, or really stretching reality, and that my dear cyclists is where extremely robust independent testing comes in rather handy.
Again, place your bets in the comments below!
Right, I was going to give a Rex Black diamond update, but since I have rambled on as usual already, I will give it priority next update as it deserves some fresh attention .
Key Learnings from Lubricant Testing Version 2 Coming Soon
It was once upon a long time ago that version one document was uploaded, and it is now quite dated, and more learnings / better explanations will be revealed in a much improved version 2.
Stay tuned for the update on this and try to find 10 mins to peruse, it will be a condensing of the key information learned from over 300,000km of control testing that will help guide what are the best lubricant considerations – really focusing on what you should consider for your day in day riding to KEEP your lubricant low friction, as this is what counts – this is the battle. Wrong choice for your cycling and maintenance level – it will not really matter how awesome it may be for the first ride or two, things will cost you in the long run.
The most common question I am asked is "what is the best lubricant?" – the best lubricant is of course the one that REMAINS the lowest friction for your cycling and maintenance – and key learnings version 2 will be attempting to break down how to get to the correct choice much better than version 1.
First Dedicated Project Week of 2022
This will be commencing Monday Feb 7th, to ensure dispatch of your order before nerdy time shut down please have order in by Mid day Friday Feb 4th.
As always oh so much planned  / needing to get done – fingers crossed I get at least one more detail review done /key learnings / data update / lubricant choice matrix.
Stock
I apologise both in retro to recent customers and for future orders – stock is a nightmare.
With many variations per chain (ie say YBN silver 11spd – this can be ordered as is, with ultrasonic clean & mspeedwax prep, with ultrasonic clean and silca hot melt prep, with ultrasonic clean and AB graphen prep, or fully race optimized, or as part of a bundle pack) it means that for any chain that goes out of stock, it can be multiple lines that need updating. Then when that chain comes back in stock – updating back again.
When I can keep a buffer of stock, staying on top of updates is not too bad. When stock continually falls short, the amount of updating out / back in is a bit problematic.
Also, invoiced sales (for sponsored teams / wholesale accounts) – this does not link to webstore inventory.
In short – sometimes the website is lying re if a line is in stock. In some cases an out of stock is very temporary (a few days until next case lands), in others – new stock can be a long way away.
SRAM stock in general is really struggling – especially for AXS red and more so for Force, and it is really tricky to know what is on the way, and what is still on back order.
Campy is REALLY struggling  – still about 10 weeks away for more campy 12, about a month I think for more campy 11 – thankfully at least we have YBN that is a great back up option if you need a great chain for campy.
Shimano is often running the gauntlet but typically haven't been out of stock for too long, but holy cow cases evaporate pretty darn soon after they land.
YBN is going in and out a lot for main stock lines, but again not normally out for too long.
MSW I have not run out again yet, but I did get down to a single bag left just before xmas! I have a little buffer now and cases on the way all the time, but wowsers I am stoked to see just how many super smart cyclists are waxing now and keeping me on my toes with wax flying off the shelves and record rates month after month and it is exciting re inbound vs outbound volumes!
I  think the stock crunch is still going to get worse before it gets better, so plan ahead. Importers are really struggling supply chain wise more so than actual manufacture volumes – container shortages and blocked up ports, truck driver shortages and more – what is where and when is it moving has become quite a magic 8 ball situation for all.
My advice is to a) plan well ahead where possible. If you are going to need new bits, of anything, don't leave it until you must have it to order it. b) If it wasn't already a great idea, it is even more so a great idea to have your parts last multiple times longer by running one of the proven best lubricant choices.
Righto will sign off here with again an apologies in advance IF the ZFC website lies to you re stock, I am doing all I can to get stock in and have some buffer on all lines – where a stock line is clearly going to be out for awhile am doing best to ensure that is marked out of stock, if not – if I am out at time of order it should not be long until more hits the land of low friction.
Thanks everyone again as always for your support – I think a lot of interesting test results will come through in 2022! I am going to look at having a way of voting for a lubricant test to start post Synerg-E & WT-1 tests, as whilst I have a long list of lubricants I would love to get on the machines (I really need to test a couple of aerosol lubricants like Boeshield T9 etc), it is not all about me! Last year the machines were booked for private testing for most of the year, this year I am hoping to always keep one machine free for open testing. What would you lovely peeps love to see tested, and I think each quarter I will select a most voted on lubricant to see how it really stacks up vs claims and competition.